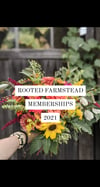 Rooted Farmstead Membership 2021
For the first time ever we are offering a *very limited* number of Rooted Farmstead Flower Memberships - Like a subscription, but better! Members will receive our seasonal best including one spring tulip bouquet, six summer bouquets, one sunflower bouquet and a discount code to be used on any item on our site throughout the year!
Memberships Include:
One Spring Tulip Bouquet - At a date to-be-determined by Mother Nature, you will receive a beautiful bouquet of our very first flowers of the season. This year we invested in not-your-average tulip bulbs, filling our fields with unique, fluffy, on-trend hues along with the classics. Tulips usually bloom mid-to-late April; however, the actual date depends on how our (historically unpredictable) winter goes in Central PA. You will receive an email in advance of the actual pick-up date.
Six-week summer bouquet share - Starting the first weekend of August, a fresh-cut flower bouquet will be set aside just for you each week for six weeks at our farm stand in Bellefonte. Members receive the best of what that week has to offer - the first cuts, farmer's favorites and a few more blooms tucked into your bouquets than our average stand bouquet. Each bouquet is hand tied and no two bouquets are ever the same!
One Sunflower Bouquet - If you followed along for our journey this year, our sunflower bouquets went FAST. Being a member guarantees yourself a sunflower bouquet at their peak. Similar to our spring bouquet, the actual date is to-be-determined; however expect late July/early August availability.
10% off any single item - Upon purchase, you will receive a unique-to-you coupon code for our online shop. This can be used on any single item starting now through the end of 2021 including bouquets, bloom buckets, merchandise, pick-your-own admission, or use immediately for a holiday wreath!
Additional Details:
- Pick-up Location - All bouquets are picked up at our stand at the intersection of Hubler Ridge Road and Ridge Farm Road in Bellefonte, PA. Sorry, no delivery is available.
- Pick-up Days - All pick-ups will be on Sundays. Bouquets labeled with your name are placed at the stand in the morning and can be picked up at your leisure throughout the day.
- If you are unable to pick up on a particular weekend, please arrange for someone to pick up in your place.
- We are unable to accommodate special requests including change in pick-up location or date. We will not offer refunds or replacements for missed pick-ups.
- Fees are non-refundable
Memberships make great gifts! If you intend on gifting this membership, please note this in the comments and a printable PDF will be sent to you to print and gift to your loved one! Consider matching up a membership with a holiday wreath to enjoy this season or pair with a gift certificate to a local brunch spot to enjoy on their way to the stand!